Tired of the same old hamburgers? Get ready to shake up your summer cookouts with this delicious inside out cheeseburger! Your guests will love the new spin on an old favorite. When you bite into this juicy patty, your are greeted with a melted cheese center – creating a gourmet twist on the classic cheeseburger. Not only is this inside out cheeseburger delicious, it's also surprisingly easy to make. So fire up the grill and let's get cooking!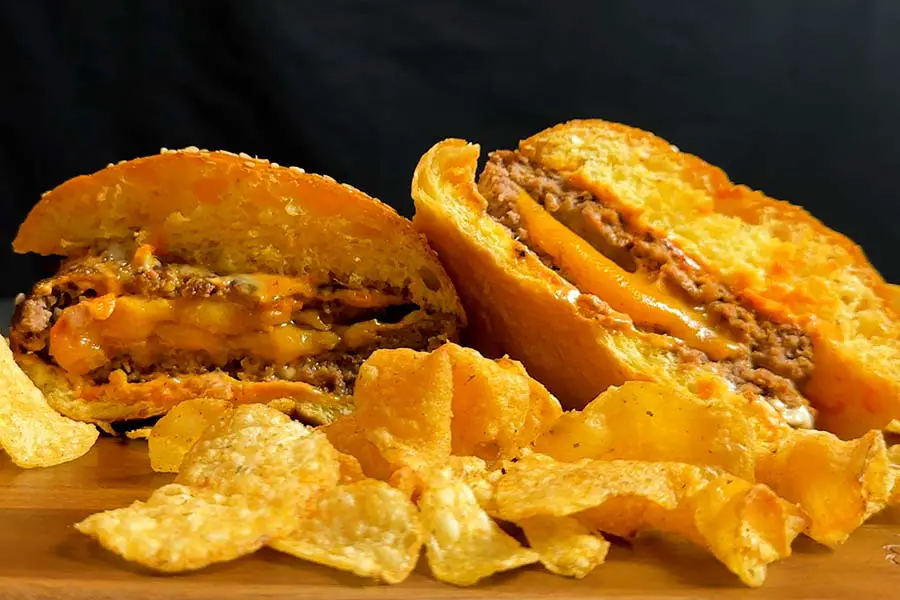 Ingredients
2 lb. Of Ground Beef
2-4 oz. Bread Crumbs
1 Egg
1 tsp. Salt
1 tbsp. Pepper
1/4 Finely Chopped Onion
Sliced Cheddar Cheese
Instructions
In a large bowl mix in your ground beef, breadcrumbs, salt, pepper, onion, and egg.
Kneed together all the ingredients thoroughly
Form your ground beef mix into very thin patties, either with a hamburger press or by hand.
Add a small square of of cheese to the center of half of your patties. Make sure cheese slices fit in the center and do not over hang the patties at all.
Take your other patties and place them over top.
Kneed around the edges of the all your patties that have cheese in them. You want to make sure you have a good seal all the way around or the cheese is more likely to escape.
Place your patties on a pan in the oven and bake for 25 minutes.
Take your patties out of the oven then grill them for 3 minutes per side or until your meat is full cooked.