This is the perfect side dish, and my whole family loves it! It is often the first thing to disappear when we have a backyard BBQ.
Tip: You should let it set in the refrigerator. It gives the flavors a chance to mix, but we usually start eating it right away.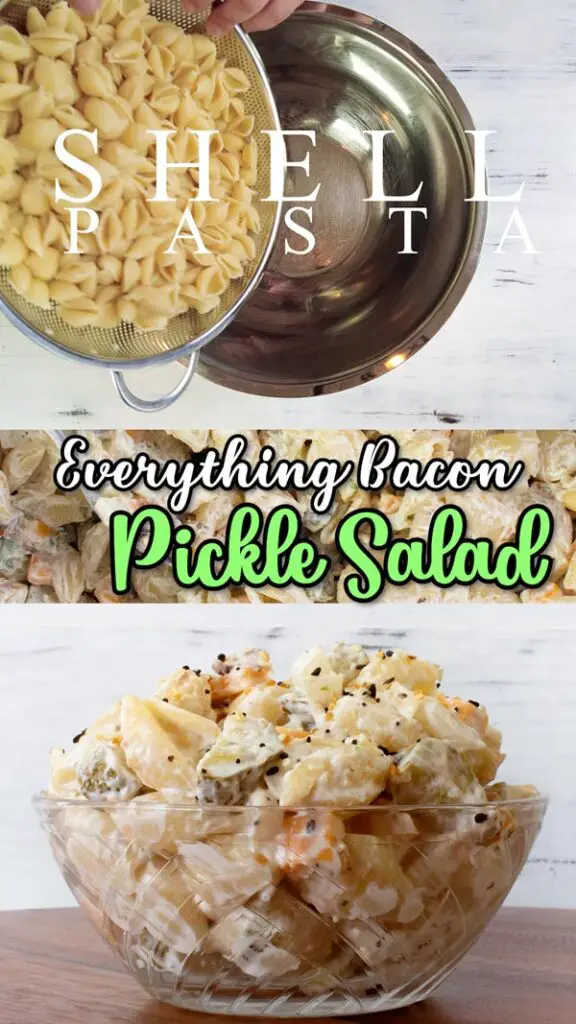 Ingredients
16oz bag of medium shell pasta
3 cups diced pickles
2 cups diced onions
2 cups cubed cheddar cheese
1/2 cup pickle juice
2 tsp salt
2 tablespoon everything seasoning
1 tsp pepper
2 tablespoon fresh minced dill
1 1/4 cup mayo
2/3 cup sour cream
2oz cream cheese
1 cup chopped bacon
Instructions
Bake your bacon in the oven, on a cookie sheet covered in foil, at 400 degrees. Bake for 20 minutes, flip bacon half way through.
Boil your shell pasta until al dente (firm not mushy).
Strain and run pasta under cold water to stop the cooking process.
Add your pickle juice to your pasta in a bowl and mix.
Then add your mayo, sour cream, and cream cheese.
Then add your seasonings. Pepper, salt, dill, and everything bagel seasoning.
Mix that around until you pasta is coated nicely.
Then add you bacon, cubed cheese, onions, and pickles.
Mix well, let it set in the refrigerator for an hour.