I love these fries! Honestly, the first batch has already been eaten by the time the second one is done. That is why I needed to find a way to cook these fast. At 11 minutes a basket, it just takes too much time. That is why I devised a way to air fry them in only 5 minutes.
Obviously, that isn't the total cook time. We do have an additional step, but when that is complete you will be cranking these fries out!
How To Air Fry Fries Quickly
The answer is simple, you need to precook them before they go into the air fryer. Pre-Bake them at 350 for 30-40 minutes. The benefit of this is you are not limited by the small basket of an air fryer and you can fill up multiple pans and once. An added benefit, is the baking process will remove extra moisture and your fries wont be soggy.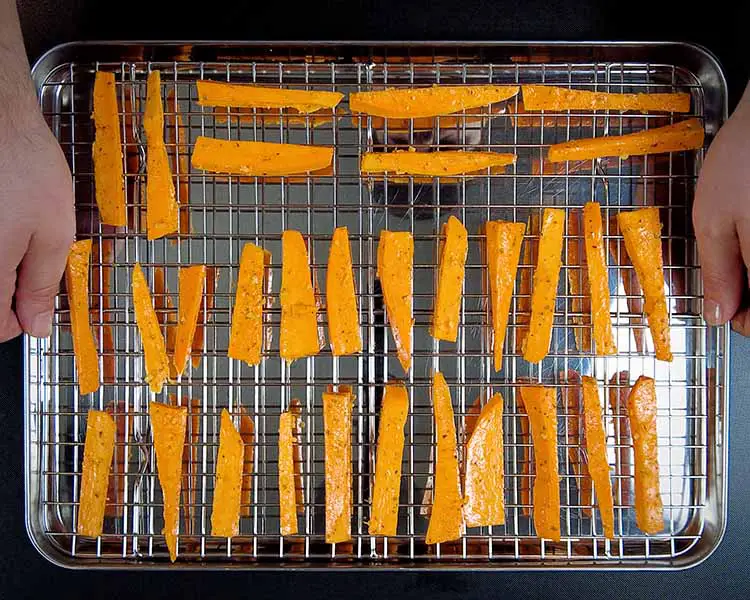 Easiest Way To Cut Fries With A Knife
Potatoes can be tricky to cut with a knife because they are so dense. You also run the risk of a slip of the knife and getting a nasty cut. The easiest way to cut them is with a chefs knife. However, instead of slice through them you are going to chop them by slapping the back of the chefs knife with you other hand.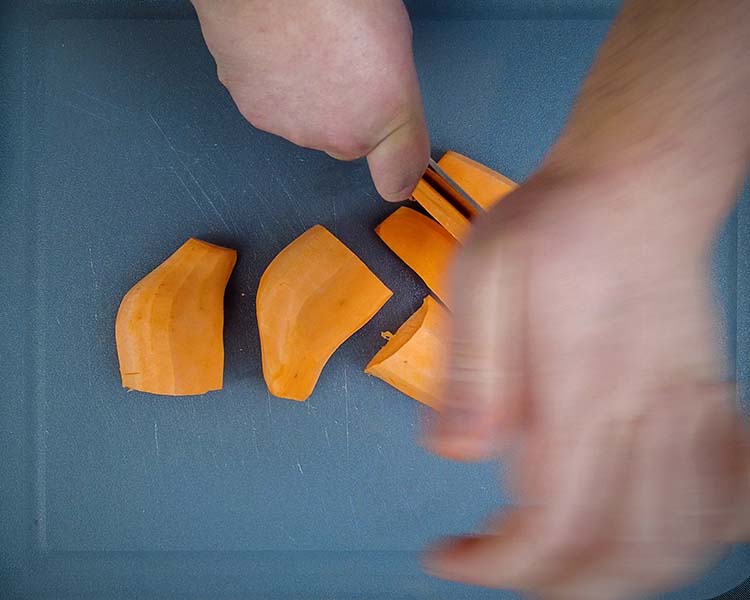 This way your digits stay clear of the blade and you can make a precision cut.
Ingredients
Sweet Potato
Olive Oil
Italian Seasoning
Minced Garlic
Salt
Instructions
Peel and chop you sweet potatoes into fries.
In a bowl coat them with olive oil.
Add Italian seasoning, minced garlic, and salt.
Lay your fries out on a baking pan, preferably one with a rack for better air flow around the fries.
Bake for 30 minutes at 350 degrees.
Take a batch of fries from the oven and place them in your air fryer basket.
Air Fry them for 5 minutes at 370 degrees.
Repeat adding fries from the oven to the basket until all fries have been air fried.
After all your fries are done cooking, add more salt, Italian Seasoning, and minced garlic to them.