Front Entry Way, Elegant Rose Gold Christmas Tree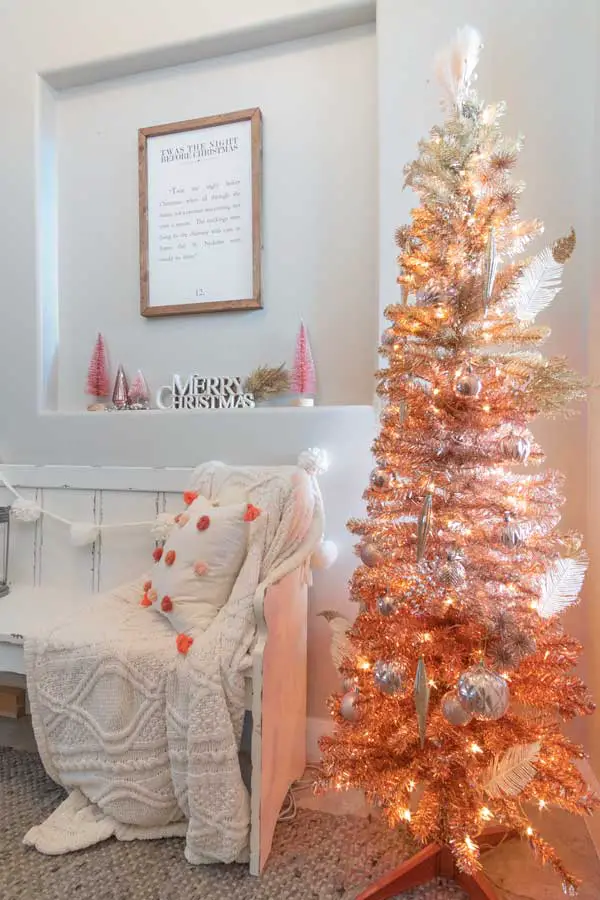 Oh how I LOVE Rose Gold! I'm obsessed with this Christmas Tree find that goes perfect in our Front Entry room! The best part about this tree is the price! $65 for a 6.5 Rose Gold slim tree over at Michaels. The Picks and Sprays and Ornaments all came from a variety of stores, Michaels, Walmart, and Target all for a reasonable price! I wanted to stick with a boho-ish style with the feathers and topper with a pop of glitter rose balls, champagne picks and sprays and gold throughout this tree!
Gnome For The Holidays Christmas Tree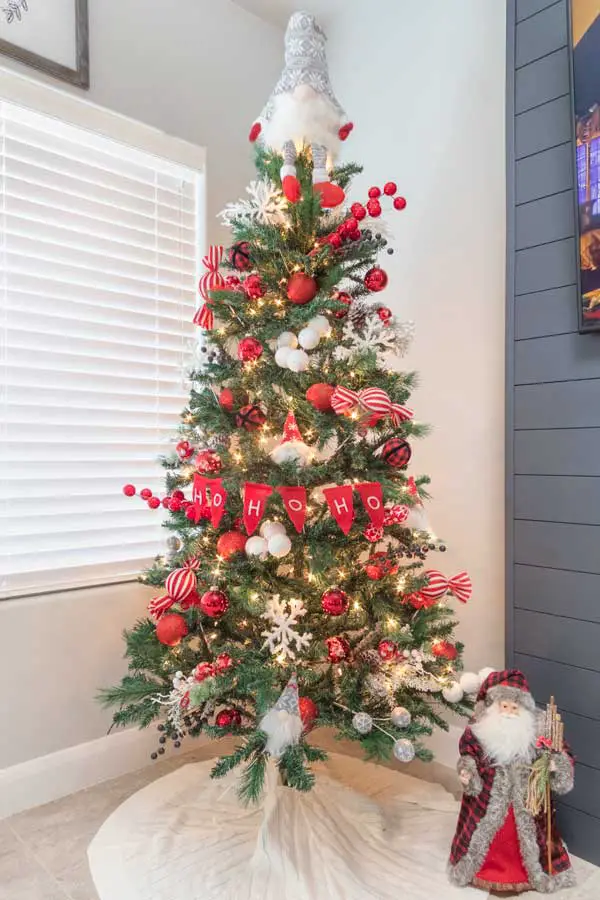 Gnome for the holiday's! I grabbed all of the decor you see on this tree at Hobby Lobby! (Except for the Gnome Topper, this came from Amazon). I love the colors on this tree mixed with a few black berry stems throughout the tree. I love that I was able to shop at one store for this entire look! If you are planning to shop Christmas at Hobby Lobby, then I would tell you to wait until you see their Christmas stuff go onto sale for 40-50% off. You really can't beat Hobby Lobby prices, and they have so many different tree color/themes!
He See's You When Your Sleeping, Bed Side Christmas Tree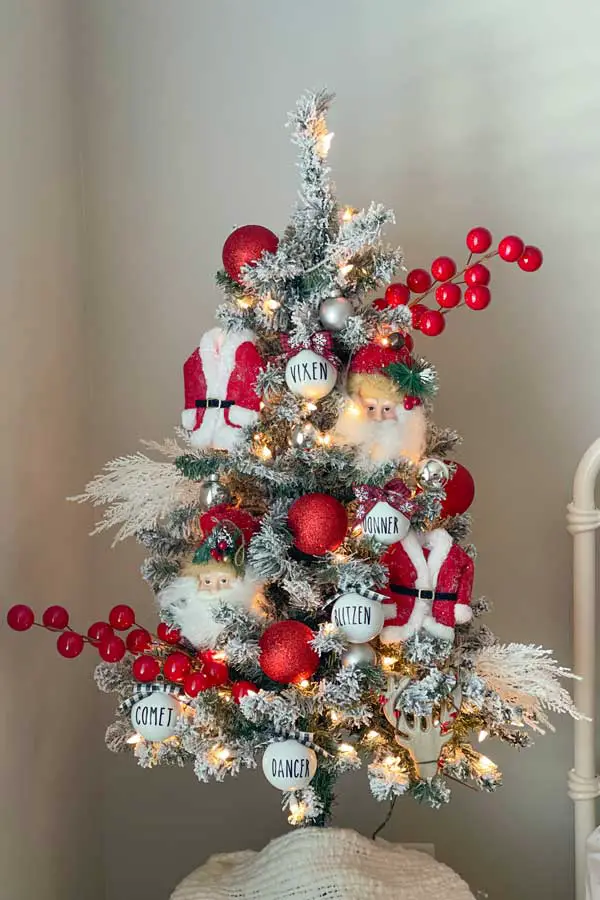 Can one person have too many Christmas Trees in their house? No? OK, good… I LOVE how this tiny 3.5-4 foot tree came out in our guest bedroom. I wanted to have a Santa theme tree for this one! I found the cute Santa faces and his Suit at Hobby Lobby along with the Reindeer, balls, and red berries. The white Sprays I found at Michaels. I made these cute inspired Rae Dunn Reindeer ornaments last year, and thought they would go perfect in this tree so that it would be Santa and some of his Reindeer!
Go Big, Burlap and Plaid Christmas Tree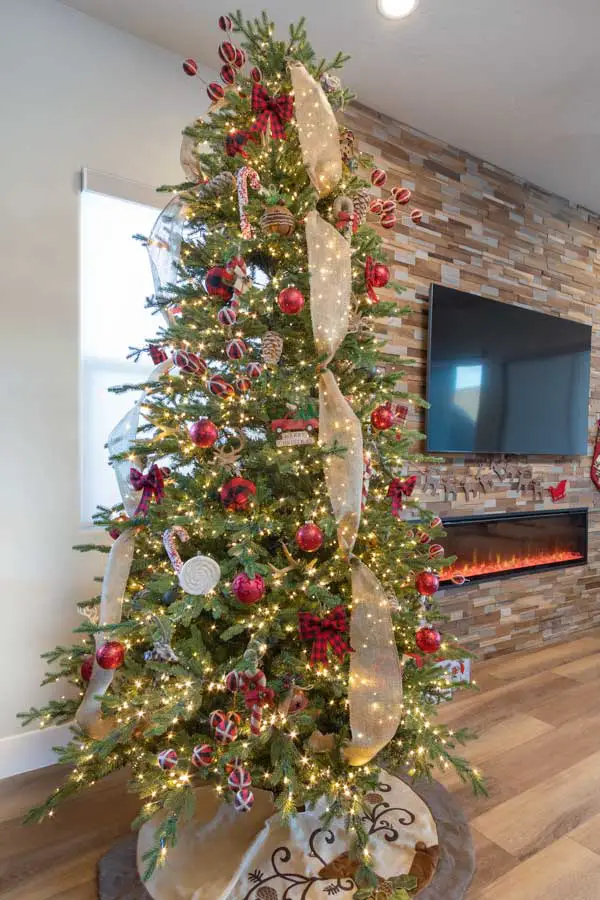 I helped my step mom decorate her new tree for her new house this year. The Ribbon was a little tough because it wasn't wire ribbon which always works better, but I think it still turned out cute! We mixed a little plaid and woodland theme into this tree! Most of what you see on this tree came from Hobby Lobby along with decor we had previous years. Next year we have big plans to add a ton more Picks and Sprays and make it a fuller looking tree! So cute and cozy!
Oh Lollipop, Miniature Living Room Christmas Tree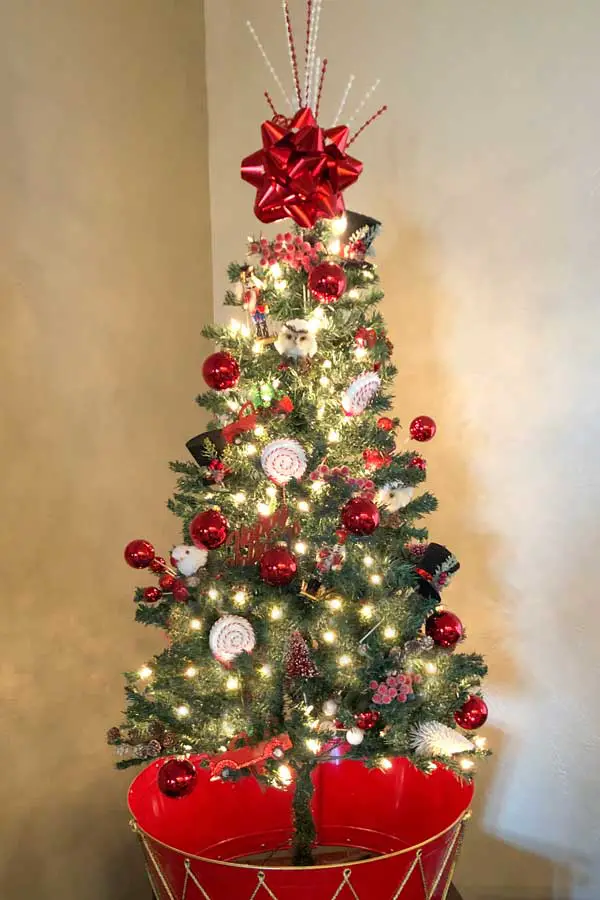 I'm loving all the different Picks in this tree that my mom did! She bought all her tree decor from Michaels this year. The lollipops make me crave all the good Christmas candy!