Another village made from birdhouses, but this time a Boho Christmas Village! I loved creating the Halloween Village from birdhouses and knew I needed one for Christmas this year. I did a boho Christmas theme for our entryway with golds, pinks, and neutrals including the cutest Rose Gold/Gold tree I had from last year. Peep the cutest "dollhouse" Christmas lights that I found off Amazon to add to the houses. Don't forget the fairy lights, wreaths, and bottle brush trees. This Boho Christmas Village definitely makes my heart happy, maybe because I'm obsessed with Christmas decor! Skies the limit with this project to match any Christmas theme your heart desires!
Christmas Village Supplies
Birdhouses
Paint (colors of your choice for your theme)
Paint Brushes
Mini Wreaths
Mini Dollhouse Christmas Lights
Hot glue/glue gun
Fake Snow
Fairy Lights
Mod Podge
Bottle Brush Trees
DIY Yarn Trees
Making Your Christmas Village
Painting Your Birdhouses
Decide on what color of paint you want your birdhouses to have. Mix it up and have fun with the colors you have chose for your theme. I mixed mine up by painting the roofs different colors and giving each house a different pattern with the paint. I rotated my paint colors, but kept it to only about 4 paint colors throughout this project. Remember, there is no right or wrong way! Have fun with it!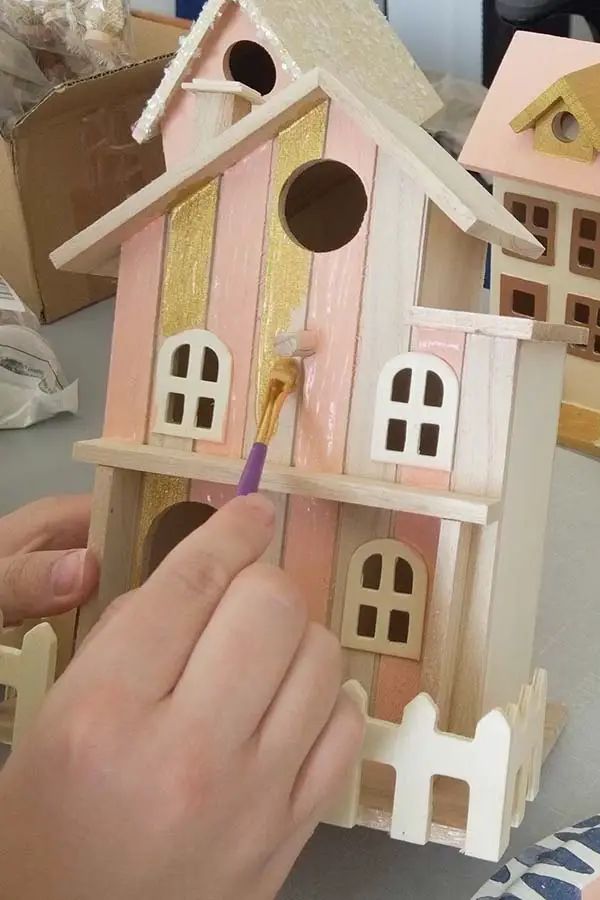 Adding Fake Snow
Once your paint is completely dry, add a layer of Mod Podge for your fake snow. While the Mod Podge is still wet/tacky sprinkle your fake snow on the parts of the Village you desire. I added snow to my rooftops and one of the ledges on my houses. I feel like it gives it such a pretty shimmer!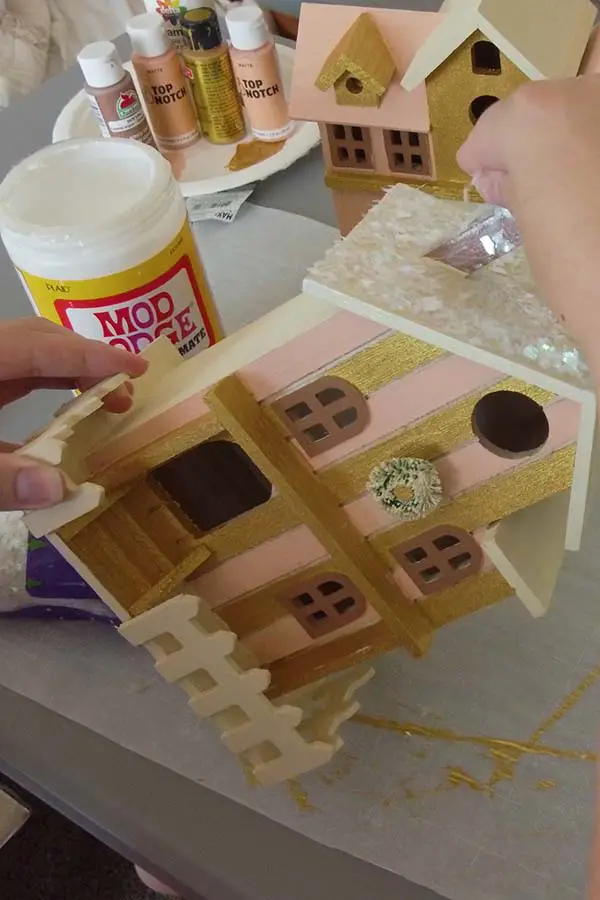 Hot Glue Dollhouse Christmas Lights
I measured out each section for my Christmas Lights and hot glued them to the house. I think they add so much to the village! Everything is so much cute mini sized!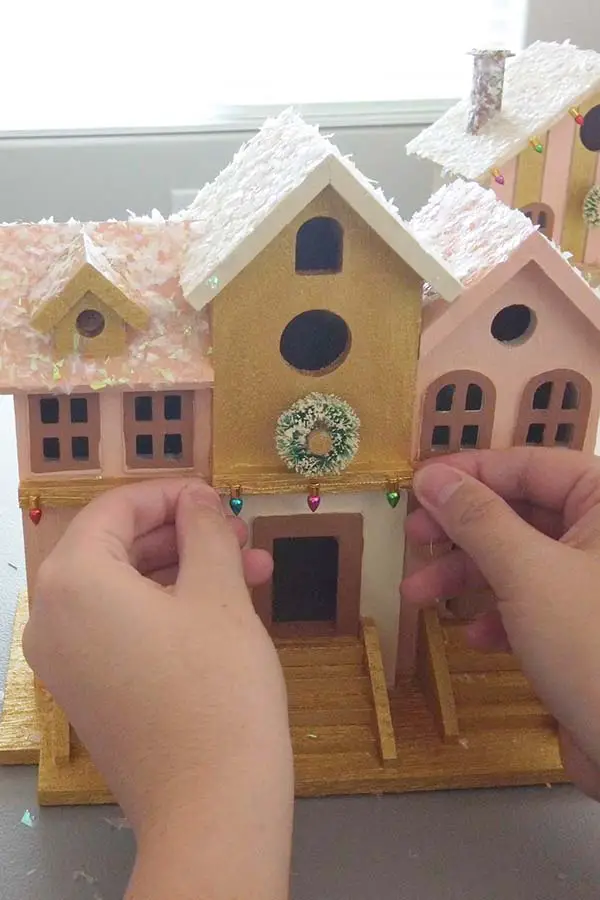 Adding Mini Wreaths
I really wanted neutral colored wreaths, but I couldn't find anything that I liked. I ordered these traditional green bottle trees that came with red bows which weren't my favorite just because of the colors I was going for, BUT I made them work! I took the bows off, and dabbed some cream colored paint to make them look more neutral/flocked. LOVE how they turned out! They fit perfect on the birdhouses.
DIY Yarn Trees & Bottle Trees
Here's how I made these yarn trees. I wanted some different textured trees to add through my village so I added some yarn trees. I think they looked great mixed in with the bottle brush trees.
Final Touches- Add Fairy Lights
Once you've got your village all complete, it's now time to add some fairy lights! The fairy lights make this village feel so cozy along with the Christmas tree lights. I love it all so much!
Christmas Village Houses
Townhome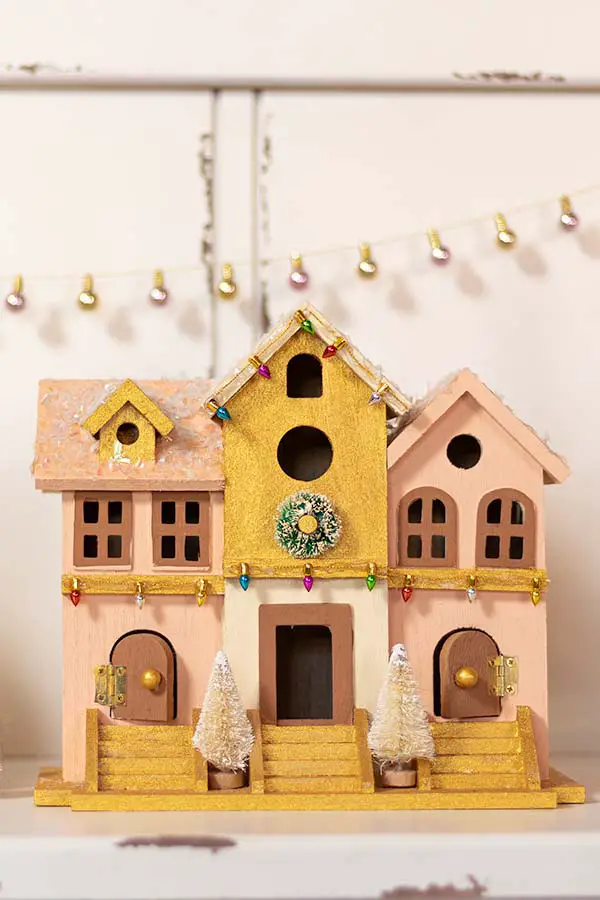 Church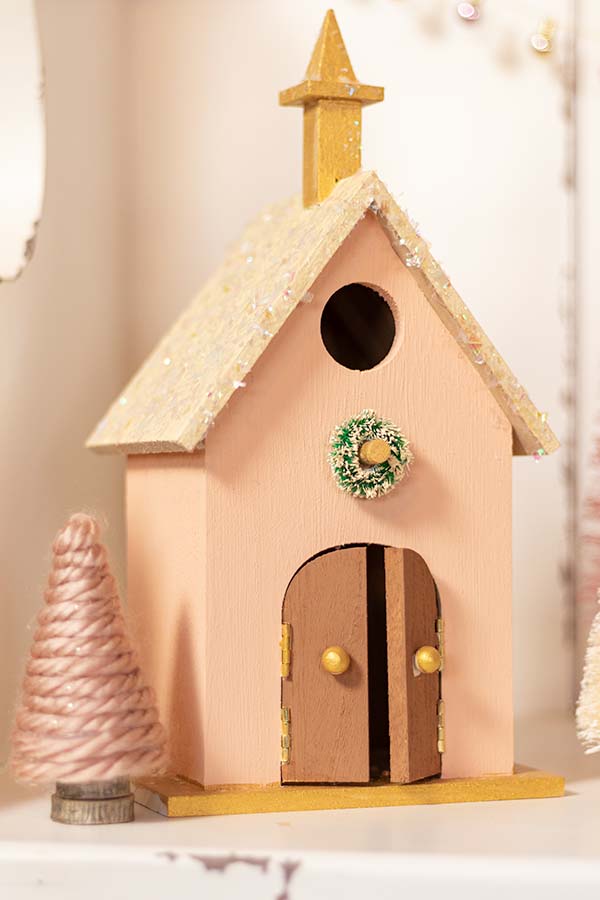 White Picket Fence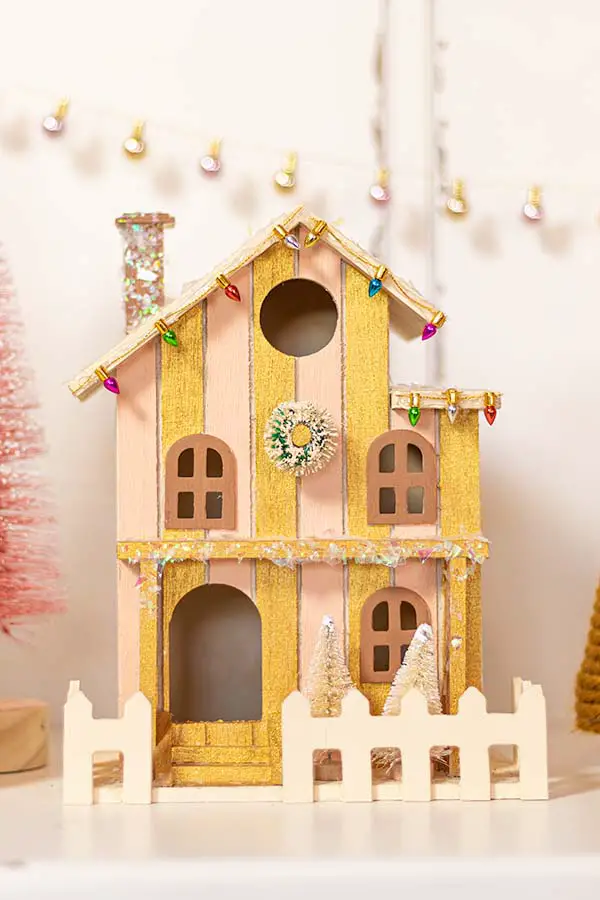 Two Story